People-centric email security
In today's digital age, email is essential for businesses and individuals. However, the rise in data breaches highlights the need for stronger security. While technology has advanced, human error remains a vulnerability. Traditional solutions focus on technology rather than the individuals who handle sensitive data.
On this page, we'll explore people-centric email security and its crucial role in safeguarding confidential information. We'll uncover the limitations of traditional security measures and emphasize the importance of prioritizing people in your data security strategy, empowering employees as the first line of defense against data breaches.
What is People-centric email security?
People-centered email security is all about the human factor in ensuring the security of email communications. It recognizes that human error and behavior play an important role in creating security vulnerabilities. It focuses on involving, training, and making users aware so that they can apply security measures correctly.
An essential aspect of human-centric email security is providing easy-to-use and intuitive security solutions. The aim is to lower the threshold for users to take security measures. An example of this is an email encryption platform that is easy to use and integrates seamlessly with existing email clients. In this way, users are enabled to communicate securely without effort and protect sensitive information.
In addition, human-centric email security also includes promoting user awareness and training. Through educational programs, regular updates, and reminders, users are informed about the risks and best practices related to email security. This helps them to recognize suspicious emails, handle attachments securely and not share sensitive information unintentionally.
Putting people at the center of email security seeks to strengthen and involve the human element in the overall security strategy. This helps to reduce the chance of security breaches and protect sensitive information from unauthorized access, both internally and externally.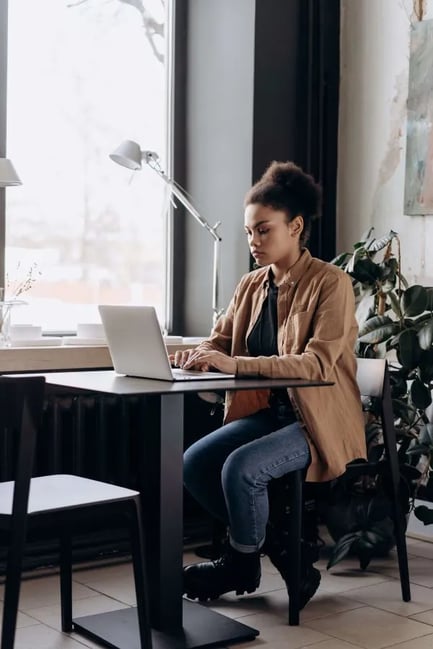 Why is people-centric email security necessary?
People make mistakes. A high workload, a bad day or just an inattentive moment. It can happen to anyone.

Sometimes people deliberately bypass security because the system they have to work with is complicated or difficult to use. They look for a detour to save time or just to make something easier.

With people-centric data security you prevent your people from making mistakes themselves and you ensure that they use the security, instead of trying to circumvent difficult software.

Curious about all the user-friendly options of Smartlockr? Put together your own quote and decide for yourself how to set up your security.
Of the data leaks are caused by human error. (source: Verizon)
=
low adoption of security best practices.
focus primarily on technology, not on protecting the human layer.
"You get bombarded by data breaches in the media. If you can give the users a solution, that just gives you a good feeling. [...] We only get positive reactions. Smartlockr is much easier to use and everything is extremely clear."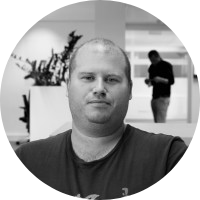 What can a people-centric cybersecurity solution do for you?
Empowers people. A human-centric security solution isn't about eliminating the human element. Instead, it helps individuals prevent data breaches and stay compliant. Together, people and technology collaborate to deliver robust security.


Compatible with all devices and email clients. Everyone has their own preferences. This compatibility is vital as it provides user flexibility, promotes company-wide adoption, facilitates business continuity, simplifies implementation, and reduces cybersecurity risks for the whole organization.
In addition, when employees are on the move, they can work with ease, knowing they don't have to use separate apps or programs, allowing them to do their job securely.
Smartlockr seamlessly works on all devices and email programs, allowing everyone to do their job the way they are already used to.


Tailored and flexible. No two organizations are the same, and that applies to cybersecurity needs as well. By customizing security measures to fit each business's specific requirements, it guarantees robust protection. This means organizations can address their individual challenges, adapt to different work styles, integrate with their own programs, and comply with industry regulations. That means it provides the best protection for YOUR business.
Smartlockr offers organizations the freedom to choose how to use it:
Whether you prefer using the plug-in, going plugin-free, or even a mix of both, Smartlockr ensures everyone can work in their preferred way. This guarantees that everyone actively uses the platform to protect data.
Use your own content filters to increase security. Administrations can add personalized rules, risks, and filters and configure their own functionalities.
And the best part? Smartlockr allows you to create your own pricing package, enabling you to pay only for the features you actually use!
User-friendly. A security platform that works intuitively promotes user adoption, reduces errors, and prevents people from looking for ways to circumvent security.
It fits right into employees' existing workflows, making communication efficient and secure.
User-friendliness is of paramount importance at Smartlockr. Because even the best security technique won't work well if users simply can't handle it. This means:
Everyone can continue to work as they are used to.

No technical knowledge is required.

It integrates seamlessly with existing applications and processes.
Easy, breezy, and time-saving. An easy-to-use platform keeps everyone secure and worry-free while saving time for employees, IT, and Security teams. By streamlining security processes and minimizing complexities, the solution allows users to focus on their core tasks without being burdened by cumbersome security procedures. Plus, it helps prevent human errors, ensuring sensitive information remains protected.
And guess what? The IT team gets fewer tech questions, so they have more time for other important stuff and cool projects!


Better cyber awareness. People involved in cybersecurity are much more aware of the dangers and risks in everything they do digitally. They recognize attacks earlier and may report incidents at a much earlier stage.

Smartlockr increases cyber awareness by providing a user-friendly plug-in with real-time threat detection and interacting with the user. It transforms employees into active participants in maintaining a secure digital environment and creates a strong defense against cyber threats throughout the organization.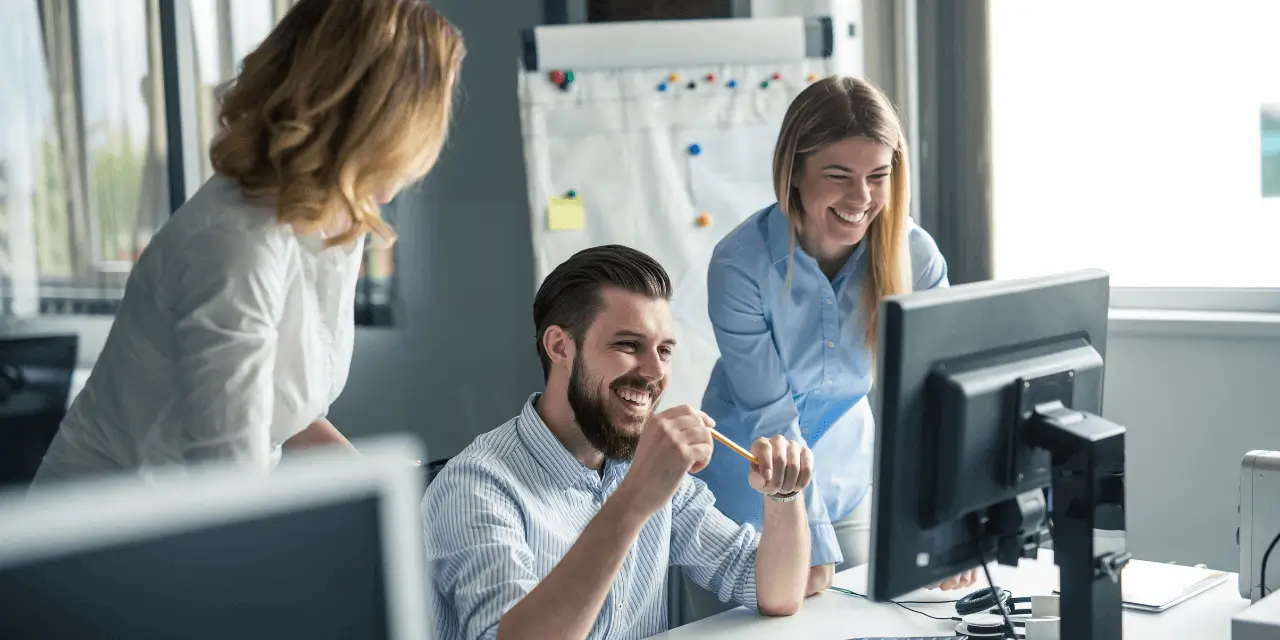 Save time with easy-to-use data and email security
In addition to all the benefits of people-centric cybersecurity already mentioned, there is one more that will appeal to everyone. You save time with it, a lot of time. Users can secure everything with a click of a button without any worries, IT does not have to spend hours on management and the installation is even taken care of for them! You can read more about this in our blog about saving time at all levels of your organization.
Read more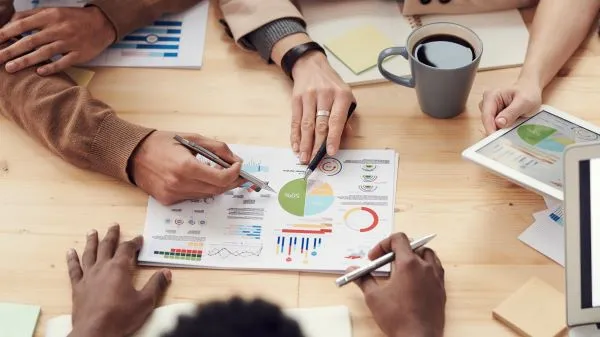 The IT department also wants a user-friendly platform
When you talk about user-friendly software, you often think only of the end users. IT is then often left with a difficult-to-implement and hard-to-maintain solution. But a user-friendly platform changes the game! It boosts efficiency and productivity by reducing the learning curve and simplifying implementation and management processes.
With fewer support requests and higher user adoption rates, the IT team can focus on strategic tasks. Plus, it enhances security, compliance, and user satisfaction, making it a top pick for both IT and end users.
At Smartlockr, we've got everyone covered!
We don't just think about the end users; we give special attention to our IT department too. They're our top priority, making sure everything runs smoothly for the whole team!
Our process begins with an on-location installation of our platform, promptly configured to meet your specific needs. All this can usually be done within a day. And it works plug & play out of the box. That means no hassle with endlessly adjusting everything for weeks. You are immediately fully compliant with all regulations after installation.
You can then fine-tune everything exactly for your own organization so that our platform meets your wishes 100%. Fine-tuning can be done as often and as much as you want and we are happy to help and advise you!

Handy admin portal
Thanks to your own clear and intuitive admin portal, managing Smartlockr is super easy. You can easily adjust the security settings and monitor, add, delete users, create, and edit groups.

IT ≠ Helpdesk
Say goodbye to IT department hassles! With Smartlockr in place, your users will have minimal queries, freeing up your IT team from the role of a helpdesk. Enjoy smoother operations and increased productivity across the board.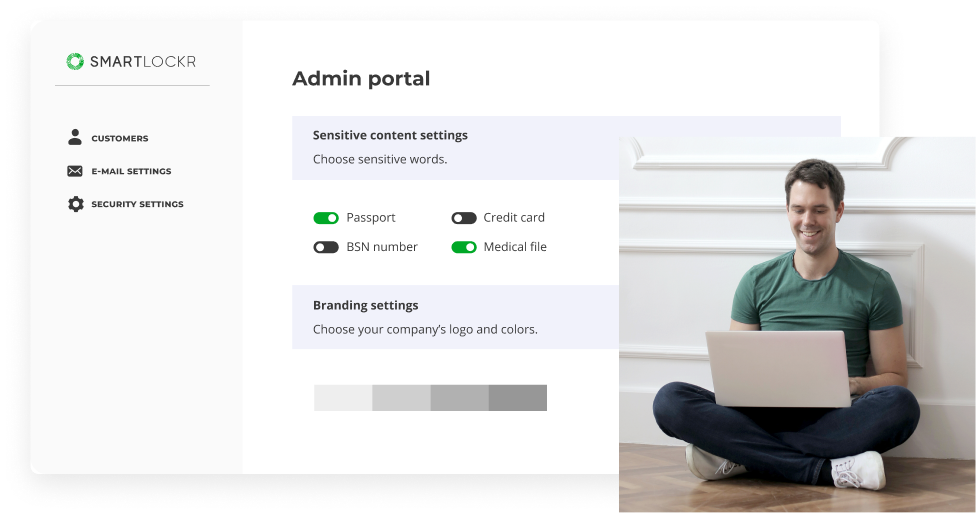 "The end users have easily embraced the solution. So if you'd ask me tomorrow if I am completely satisfied, I can answer positively."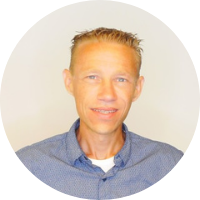 User-friendly and optimally secured,
at work, on the road and at home
Smartlockr adapts to the way your team works, whether they are constantly on the move, stationed at the office, or frequently working remotely from home. With Smartlockr, you can have peace of mind knowing that they can securely send emails and files anytime, anywhere.
At work

On the go

At home
Those who work with Outlook at the office can benefit from the Smartlockr plug-in. This gives you the best security and at the same time increases the cybersecurity awareness of your people.

Is awareness less important to you and would you prefer to secure everything fully automatically? Then you can also have Smartlockr without plug-in, which works on all email clients and devices.

You can even choose to combine both options if that suits your employees best.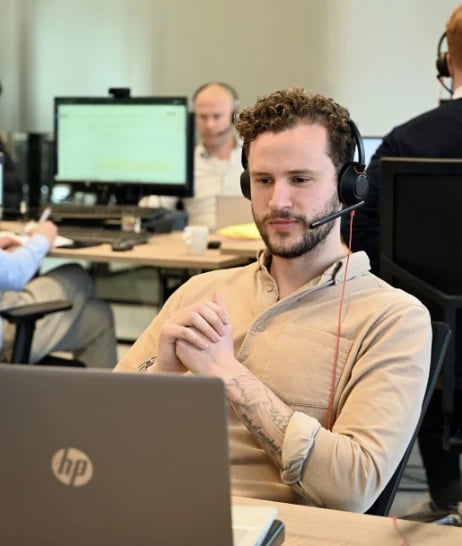 If your team is always on the go, plug-in-free security is the way to go! It's hassle-free and works like a charm on any device, with any email client.

Especially in healthcare, plug-in-free security is ideal for employees who are on the road all day, but who still need to share medical data.

And here's the cherry on top - you can even email fully compliant without a plug-in! It's all in the background, no fuss, just convenience.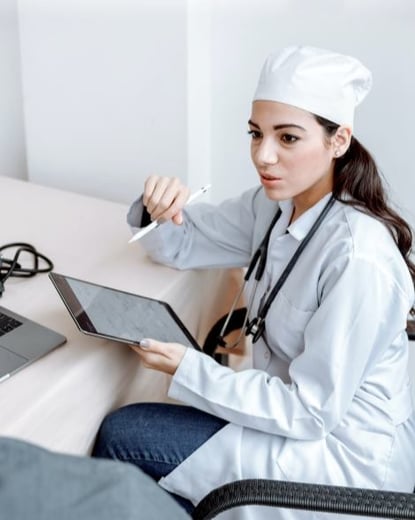 Many homeworkers in your organization? Then a combination of working with and without a plug-in is a handy solution.

You decide who works with a plug-in and who works without a plug-in. You can even choose to use both options. This way everyone gets the solution that suits them and you can be sure that security is always in order for every user!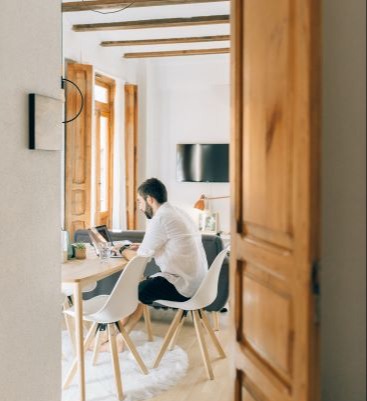 These organizations have already adopted the most intuitive and effortless method to securely send emails







Enhanced Data Security with a People-Oriented Approach. Discover the Simplicity of Smartlockr Today!
Ready to enhance your data security? Let our expert advisors guide you through the seamless experience of Smartlockr. Our goal is to understand your unique wishes and requirements, ensuring that Smartlockr aligns perfectly with your needs. Your data security is our priority, and we're here to empower you with the right solutions. Get in touch with us today and take control of your data protection like never before!



SITUATION
A secure email solution was already used within Novadic-Kentron. Unfortunately, this solution didn't always work.
PROBLEM
As a healthcare organisation, the challenge was to find a solution that actually works in order to share sensitive, patient data.
SOLUTION
"I actually looked for a package that has everything on the green light," says Stefan.

SITUATION
For the municipality of Zeist, it was time to find an answer to the question: "Are there no better e-mail solutions on the market?
PROBLEM
The current solution did what it was supposed to do, but was not user-friendly. Every user, no matter how tech-savvy, should be able to work with it with ease.
SOLUTION
With SmartLockr, user-friendliness and secure communication come together: work processes within the municipality are simplified!

SITUATION
VKG handles the administration and claims processing for many insurers and lenders, working with hundreds of consultants; in practice that means a lot of e-mail traffic!
PROBLEM
Security of data is paramount at VKG. With so many consultants, there is a lot of communication via email, so that makes secure data emailing a priority.
SOLUTION
"SmartLockr allows us to securely send personal data via email."

SITUATION
As market leader in child care, Partou wants to focus all of its energy on providing good care. Protecting a child's data, although not a core staple of any daycare centre, was clearly an important issue.
PROBLEM
It wasn't just the prospect of monetary losses, but also the reputational damages and the need to provide children with adequate protection that led Partou to choose for secure emailing. Only problem, they were in the midst of a merger.
SOLUTION
Partou benefitted from a smooth onboarding process, aided by their personal Customer Success Manager. The fact everyone at Partou is positive about using SmartLockr doesn't hurt either.

SITUATION
Het Zand is a healthcare organization that was looking for a solution so people could communicate easily and securely.
PROBLEM
There was no solution for secure emailing. And then people started looking for "creative" solutions that didn't help with data security.
SOLUTION
"The most important thing was to find a solution, which eventually everyone can work with. We see that users can work with SmartLockr."
SITUATION
The Korian Group guarantees qualitative elderly care and currently has 50 locations within the Netherlands, a number that will significantly increase in the coming years.
PROBLEM
Korian has only recently added the Netherlands to their portfolio where secure emailing is not just a 'nice to have', but a legal requirement. So, where do you begin?
SOLUTION
"As a system administrator, I was able to experience the onboarding of SmartLockr first-hand. I have previously worked with other software solutions and the SmartLockr experience couldn't be more different: weekly updates by phone, and you think in solutions, not in problems."

SITUATION
Secure emailing is very important to Cedrah, but as a healthcare provider, the email solution was often dependent on other parties.
PROBLEM
At a certain point, sending data securely "required" the use of up to 5 different applications.
SOLUTION
"SmartLockr allowed us to get back in the driver's seat and bring the number of applications back to one."

SITUATION
Safety must be ensured at Wender, both in the shelter they provide for vulnerable people, and in protecting the privacy of their clients.
PROBLEM
Their current contract for secure emailing was ending, and their provider could not guarantee a new contract compliant with the NTA 7516. They needed another solution quickly.
SOLUTION
"With 600 employees, both secure and simple emailing is a must. SmartLockr not only met NTA 7516 conditions but was also easy to use and affordable."