A great opportunity to keep Privacy on the map - Parteon case study
---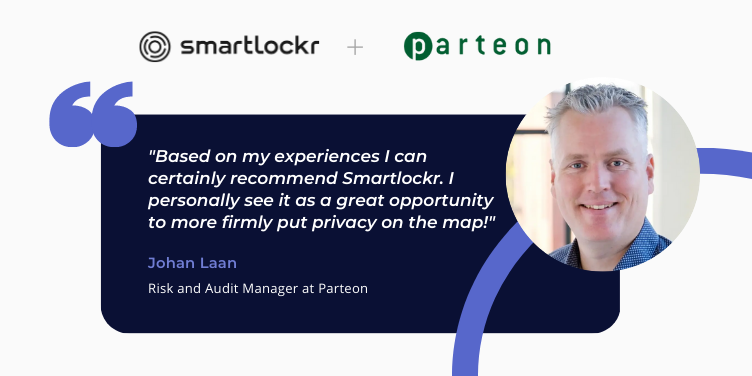 "Basically, Ramesh Bansi and I try to prevent data breaches," Johan Laan summarizes his job in a single breath. Johan is the Risk and Audit Manager at Parteon and also holds the position of Privacy Officer together with his colleague auditor Ramesh Bansi.

Parteon is a housing corporation in the Dutch Zaanstreek and provides the region with plenty of affordable and qualitative housing. It goes without saying that the management of confidential data is Parteon's prime responsibilities. Johan can attest to that: it is a great as well as varied responsibility, not just for Parteon's 200 employees, but also for its residents of more than 16,000 rental units.
Johan briefly talks to us about his career at Parteon and the way in which Smartlockr was allowed to play a role in their business:


"When I first started working at Parteon in 2018, I entered an incredibly privacy-conscious organization. For example: the GDPR implementation was done well in 2018. This partly kickstarted the awareness surrounding the importance of secure communication.
Therefore, we could also find a lot of support among employees to find a solution for sending and receiving both files and data securely.

When we were looking for a service provider in secure emailing, our greatest requirement wasn't necessarily generating awareness among our users, as you typically see in other organizations, as we already had that.
"We were looking for a structural solution: regulation that is accessible to everyone and is easy to work with."

That search went quite easily, by the way. We did some googling and asked colleague corporations in the area for advice. The nice thing about 'corporate land' is that there is a lot of sharing. This is how we knew fairly quickly that Smartlockr was a great match.

Of course, we grilled other potential service providers, but Smartlockr was the first one who had a good story.
"The ease and simplicity of Smartlockr appealed to us."

Colleagues have been very positive. I'm often asked when we will finally start sending out emails in a structurally safe way. To name an example: we share information with the municipality about our real estate. Smartlockr allows us to place it in a secure location and in turn allowing the municipality to easily retrieve it. That eases our work processes too.

So yes, I am satisfied with Smartlockr so far. I'I'll give it an 8 out of 10, but I will of course await its implementation first.

I do expect a lot of messages after its implementation, at least in the beginning, due to, for example, employees' emails being blocked. Some struggle is expected and that's a good thing! It allows us to have a discussion about the product and will make people even more aware of email security.
"Based on my experiences I can certainly recommend Smartlockr to other organizations. I personally see it as a great opportunity to more firmly put privacy on the map!"
Experience what Smartlockr can do for your organization. Simply schedule a free demo via the link below to see Smartlockr in action!