Integrate secure email into your
existing work processes
Simple and easy to use. Integrate with your systems and make secure email part of your business.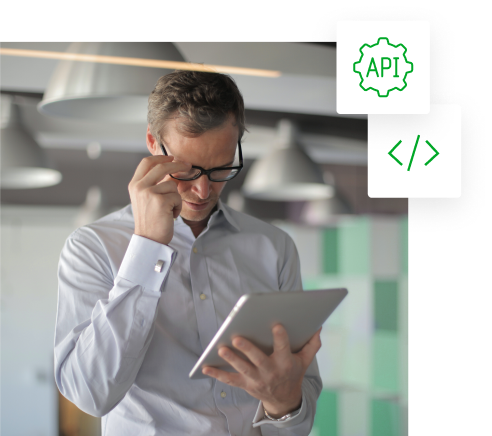 What is an API?
API stands for Application Programming Interface. It is a set of definitions & codes that ensure that different (software) systems, also called Interfaces, can communicate with each other. And perhaps more importantly: being able to exchange data.
We deal with this every day. For example, have you ever considered that you can shop online via social media, thanks to the integration with webshops? Or that you can see the weather forecast on a news website? These connections are established by the API.
Systems are not built so that they can basically communicate with each other. That is why the API works here as an intermediary. Both systems therefore do not have to reinvent the wheel: only a link has to take place to make use of both functionalities. 
Every day we use APIs more than we think. It makes our lives easier and the work processes more efficient
There are different types of APIs for (web) applications, software libraries and operating systems. They all consist of a code and can be used for different purposes. For example, think of:
The integration of navigation software within a social media platform, for the location provision.
Data from a weather station, such as weather forecasts, can be integrated into a news channel's website.
A spell checker that can check the content on a website. In this way, website builders no longer have to build this application themselves.
A link to an address book that you can use to email securely.
The API ensures that systems that do not speak the same language can communicate with each other.
A simple comparison: when two people (interfaces) speak different languages, the intervention of an interpreter (API) can offer a solution. The persons do not need to possess each other's knowledge (knowledge of the other language), because the interpreter ensures that both parties will understand each other. The interpreter receives and processes the information so that both persons can communicate and exchange data with each other.
The API basically does the same thing. It provides a code through which systems can be linked. So the developers of both programs do not need to know how the other program works. What happens in this case is that the missing information from one system can be found in the other system, through the API.  

The benefits of the SmartLockr API
There are many advantages to using an API, depending on the type of integration. If we look at the integrations between SmartLockr and various systems, such as ERP and EPD systems, then:
Systems work together efficiently, whereby both systems can read data. This ensures that the data is always up-to-date.
New business models and collaborations are established more quickly.
It saves a lot of time and money to implement secure mailing. Developers do not have to start over when writing code: this improves internal processes and increases the efficiency with which to work.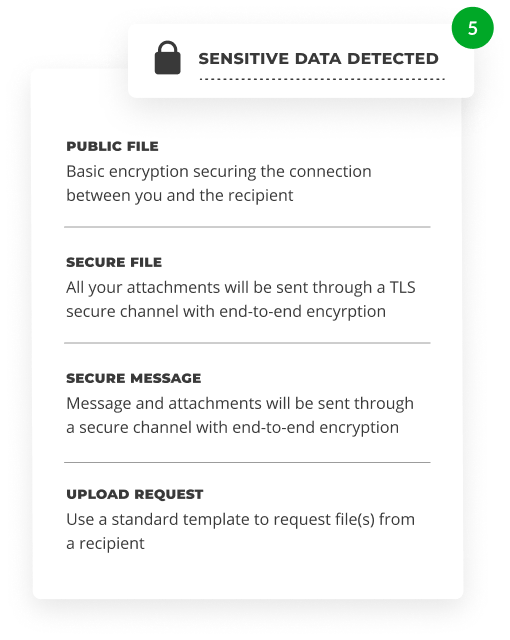 What functionalities do you have with the SmartLockr API?
You can also easily integrate secure mailing with SmartLockr. Here are your benefits:
Create portals with public files/secure files and secure message with/without files.
Add a message to a portal.
Attach a file to a message.
Retrieve messages in a portal.
Retrieve files in a message .
Successful API integrations with SmartLockr

Khonraad is a chain architecture that is used by more than 99% of the municipalities. In addition to the communication that takes place within this chain, municipalities mainly use e-mail to communicate with people outside the chain.
These communication flows must also be established securely: the secure e-mail solution from SmartLockr that integrates with Khonraad offers the solution. As a result, municipalities will communicate securely both within the chain and outside the chain using the API.

With a focus on Integrated Risk, Security and Privacy Management, Wrangu has a solution for keeping your data safe. This gives you insights into the security risks and you know how to anticipate them. Our platform will give substance to this, through the secure communication that our platform offers.






With Workspace 365, organizations can find all applications, information, intranet and document storage in one digital workspace. The integration with SmartLockr ensures that communication can now also take place safely from this workplace. The functionalities for secure e-mail can therefore be found in this digital workplace. So whether you work from home or at the office: secure mailing is also part of this.
"We were excited to partner with SmartLockr because they ensure organizations are compliant with laws and regulations and employees also automatically email and share documents more securely without interruption."
- Erik Nicolai, CEO & Founder of Workspace 365.
Integrating with an API is more than just secure mailing
It is simple, fast and without disrupting your work processes. From anywhere, on any device.